Description
The iTrail Solo portable tracker with an included water resistant magnet mounting case. Use this great kit for rapid deployment vehicle tracking.
Our trusted iTrail Solo GPS tracking devices is paired with the Roc Box. A water resistant case with built-in 80lb magnets for attaching the GPS tracker to any magnetic surface. The iTrail Solo works with a tracking subscription, pick a data update plan that best meets your tracking needs.
Now available on the 4G LTE Network, the iTrail LIVE real time trackers use the best cellular networks to stream your tracking location data to the iTRAIL LIVE app and web tracking platforms. Utilize alerts and reporting for device management. All plans are available and billed in Month to Month or Yearly.
4G LTE Network
Geo-Fence
Location Updates at 30 or 60 Seconds
14 Day Battery Life @ 1hr/day
Auto Sleep Mode
On/Off Switch
Web-Based Software
Historical Playback
Text Reports
PC/MAC Compatible
Text Message(SMS) Alerts
Arrival Alerts
Departure Alerts
Low Battery Alerts
Navigation Feature
SOS/Panic Button
LiveShare Feature
Perfect for teen drivers, asset tracking, executive protection, any fleet vehicles
Subscription plans below: Cancel anytime with no penalties. North American coverage, all plans and device works in the USA, Canada and Mexico.
Unlimited Data
Receive Alerts
Generate Reports
Personal: $29.95/month 1 minute Updates
Personal Plus: $34.95/month 30 second Updates
iTrail Solo: 39.95/month 10 second update
For more detail go to www.myitrail.com
Get the iTrail Live app for iPhone or Android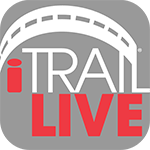 Rapid Installation
CELLULAR: 4G LTE | LTE eMTC/NB-loT | LTE B2/B4/B12/B13
Standby time: Without reporting [400 hours or 16.5 days] 5 Min Reporting [140 hours or 5.5 days] 10 min reporting: [180 hours or 7.5 days]
Water Resistant
OTA Control
Transmit Protocol: TCP, UDP, SMS
Scheduled Report: Report position and status based on preset time intervals, distance, mileage or a combination of these settings
Geo-Fences: Supports up to 20 fences
SOS/ Emergency Button: Alarm based on digital inputs
Low Power Alarm: Alarm when battery is low
Power Button: Power On and Off, can be disabled via air interface protocol
Special Alarm: Special alarm based on digital inputs
Motion Detection: Motion alarm based on interval 3-axis accelerometer
Vibration Feedback: Function Button with Vibration Feedback-Emergency alert or instant geo-fence setting
Ignition Detection: Digital Inputs: 1 positive trigger input for ignition detection, 1 negative trigger input for normal use
LED Indicators: CEL, GNSS, PWR
Position Accuracy (CEP): Autonomous: 2.5m
Certificate: PTCRB/FCC/Verizon/AT&T
GNSS Type: u-blox All in One GNSS receiver
Cellular Antenna: Internal Only
GNSS Antenna: Internal Only
USB 2.0 Port: Charging and Configuration
Battery: Li-Polymer 2600 mAh
Operating Temperature: -4º to 131ºF or -20° to 55°C
Dimensions: 1.57 x 1.05 x 3.07 in.
Weight: 3.28 oz. or .21 lbs.
Download Manual
Download Manual
Dimensions: 3.75" L x 2.5" W x 2.75" H
Weight:
Download Specification Sheet
Please Note: Once your tracker has been installed, it may take up to 24 hours for it to connect to Cellular Network and begin reporting. Also note that this unit does not track outside the US. If service is inactive for 60 days or more, the device may need to be returned for reactivation.
View All
Close